We are sharing our Flourless Chocolate Cake over on This Mama Cooks this morning. Perfectly moist, dense, chocolate paired with a sweet whipped cream and a tart berry sauce.
A few months ago we snuck away to a little town in the upper ridge of Georgia called Blue Ridge. We were on an incredible vacation with Kevin's parents. It turned out to be four of the most relaxing days I've had in ages. I didn't cook a thing the entire time we were there! Between Kevin and Melanie, the cooking was tackled and I was left to relax, read my books, drink my tea and soak in huge hot tub every night.
They also sent us on a date. A real date. Just the two of us eating and drinking to our hearts content at a brand new restaurant called The Black Sheep. No screaming toddler or infant needing me. It was heavenly.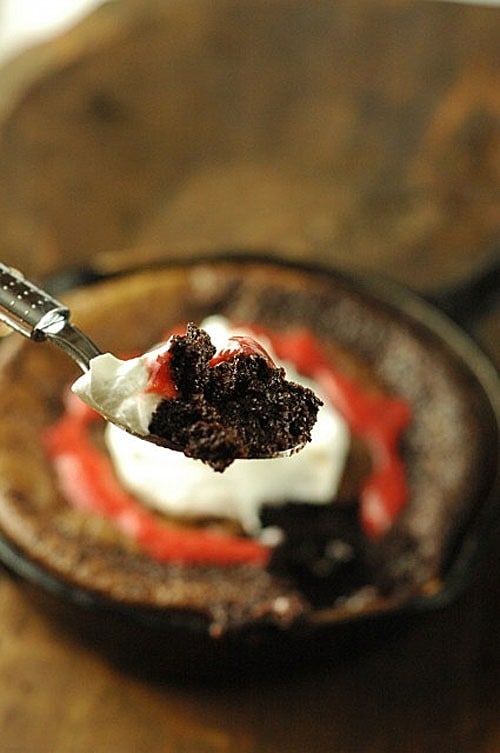 Our dinner was absolutely perfect, from the amazing Ahi Tuna Asian Nacho's, to beautifully cooked lamb and duck. But the star of the night was most definitely the dessert. When our wonderful waiter told us that there was a flourless chocolate cake on the menu that night I knew we were in for a treat. And I was right. Perfectly moist, dense, chocolate paired with a sweet whipped cream and a tart berry sauce. My red wine melded beautifully with it (as would a lovely ruby Port), bringing out the sweetness of the wine and the slightest hint of coffee in the cake.

Flourless Chocolate Cake
Ingredients
¼ cup coffee
1 teaspoon baking soda
pinch salt
2 (6.8 ounce) dark chocolate bars
8 eggs
¾ cup butter
¼ cup sugar (optional)
strawberry sauce for serving
whipped cream for serving
Instructions
Break up chocolate into small pieces. Add butter and coffee. Melt slowly either over a boiling pan of water or in the microwave stirring frequently.
With an electric mixer whip eggs, salt and soda to stiff peaks. If using less sweetened chocolate you may wish to compensate with a bit of sugar here. I used regular dark chocolate candy bars and didn't want it too sweet so did not add additional sugar. Taste your chocolate mixture to decide and adjust accordingly.
Fold the whipped eggs into the chocolate batter until combined.
Pour into greased cake pan or cast iron. Bake at 350 degrees until set. 20 minutes for small cast iron. 30-40 minutes for large pans.
Serve warm for a very close to cake like texture or allow to cool completely and refrigerate for a dense brownie like texture.
Serve with strawberry sauce and whipped cream.